---
---
---
WHO WE ARE
BIBLE BELIEVING

BIBLE IMAGE BY JEFFERY CURTIS POOR
We test all things with the Debar Yahweh (Word of The Lord) in the trustworthy 66 Books of the Protestant Bible.
SET APART

'BAPTISM' BY IVEY HAYES
We are renewed, by our Christian Miqveh (Baptism) and yearly Seder (Holy Communion), to live for Mashiach (Christ).
TORAH OBSERVANT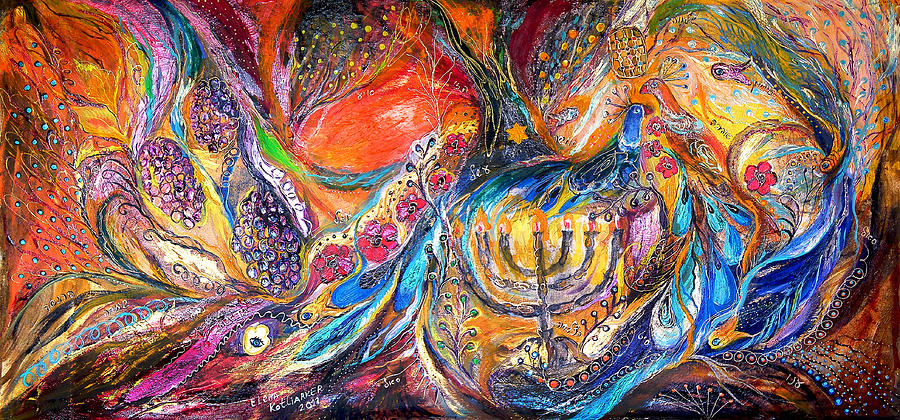 'THE LIGHT OF MENORAH' BY ELENA KOTLIARKER
We abide by the Torat haElohim (Law of God), as Hebrew Roots believers, grafted into the Beit Yisrael (House of Israel).
SPIRIT FILLED

HOLY SPIRIT IMAGE BY PROJECT 7 BILLION
We practice the gifts of the Ruach haQodesh (Holy Spirit) in our daily lives through contemporary worship.
---
WHAT WE BELIEVE
ELOHIM // TRINITARIAN
"I believe in one God the Father Almighty, Maker of heaven and earth, And of all things visible and invisible:
And in one Lord Jesus Christ, the only-begotten Son of God, Begotten of his Father before all worlds, God of God, Light of Light, Very God of very God, Begotten, not made, Being of one substance with the Father, By whom all things were made;
And I believe in the Holy Ghost, The Lord and giver of life, Who proceedeth from the Father and the Son, Who with the Father and the Son together is worshipped and glorified, Who spake by the Prophets."
— The Nicene Creed [Ecumenical]
MASHIACH // REFORMED
"The Son, which is the Word of the Father, begotten from everlasting of the Father, the very and eternal God, and of one substance with the Father, took Man's nature in the womb of the blessed Virgin, of her substance: so that two whole and perfect Natures, that is to say, the Godhead and Manhood, were joined together in one Person, never to be divided, whereof is one Christ, very God, and very Man; who truly suffered, was crucified, dead, and buried, to reconcile his Father to us, and to be a sacrifice, not only for original guilt, but also for all actual sins of men.
As Christ died for us, and was buried, so also is it to be believed, that he went down into Hell.
Christ did truly rise again from death, and took again his body, with flesh, bones, and all things appertaining to the perfection of Man's nature; wherewith he ascended into Heaven, and there sitteth, until he return to judge all Men at the last day."
— The Thirty-nine Articles [Anglican]
SALVATION // ARMINIAN
"Original sin standeth not in the following of Adam (as the Pelagians do vainly talk), but it is the corruption of the nature of every man, that naturally is engendered of the offspring of Adam, whereby man is very far gone from original righteousness, and of his own nature inclined to evil, and that continually.
The condition of man after the fall of Adam is such that he cannot turn and prepare himself, by his own natural strength and works, to faith, and calling upon God; wherefore we have no power to do good works, pleasant and acceptable to God, without the grace of God by Christ preventing us, that we may have a good will, and working with us, when we have that good will.
We are accounted righteous before God only for the merit of our Lord and Saviour Jesus Christ, by faith, and not for our own works or deservings. Wherefore, that we are justified by faith, only, is a most wholesome doctrine, and very full of comfort."
— The Articles of Religion [Methodist]
END TIMES // PREMILLENNIALIST
"The second coming of Christ includes the rapture of the saints, which is our blessed hope, followed by the visible return of Christ with His saints to reign on earth for one thousand years (Zechariah 14:5; Matthew 24:27,30; Revelation 1:7; 19:11-14; 20:1-6).
This millennial reign will bring the salvation of national Israel (Ezekiel 37:21,22; Zephaniah 3:19,20; Romans 11:26,27)
and the establishment of universal peace (Psalms 72:3-8; Isaiah 11:6-9; Micah 4:3,4)."
— The Statement of Fundamental Truths [Pentecostal]
---
OUR LEADERSHIP

Pastor Yirmeyah Tan
Elder ???
Elder ???
Elder ???
Elder ???
Deacon ???
Deacon ???
---
STATEMENT OF FAITH
1.
Rooted in Historic Evangelical Christianity,
commonly called Protestantism,
we affirm the Evangelical Formal Principle,
commonly called Sola/Prima Scriptura.
2.
Of the English Reformation,
we adhere to and affirm the Latin Rite
heritage of Western Christianity,
the 66-Book Canon of the Protestant Bible
and Reformed Christology.
3.
From Pentecostalism,
we retain and affirm the Two Sacraments
of Baptism and Holy Communion,
Continuationist Charism, Trinitarian Theology,
Arminian Soteriology and Premillenialist Eschatology.
4.
In the Hebrew Roots Movement,
we affirm Two House Hermeneutics.
---
SERVICES
BIBLE HOUSE @LEVEL 4
SATURDAYS // 3PM-6PM
7 ARMENIAN ST, SINGAPORE 179932
CONTACT
+65 6475 5627
admin@hephzibahchristianfellowshipsingapore.org
REGISTERED
ROS UEN NO: S86SS0091L
CHARITY REG NO: 000471